Yalortism is one of the main religions in the Astrostles Galaxy. Its deity, YALORT, is the creator of many galaxies around the universe, as well as many races, both living and extinct, such as the lingons and the humans. Followers of this religion are known as Yalortians.
All worlds inhabited by humans will invariably have a Yalortian presence.
The Holy Book
The Holy Book was written by the first prophets of Yalortism. This Holy Book is very, VERY ancient. Of course. And is way longer than what was transcribed to the net, obviously.
The only transcribed section of the Holy Book is The Book of Roget. Though the transcription was incomplete.
The Book Of Roget
As the High Priest Pseudolonewolf said: "Here's a list of days we get off for things! And by that, I mean: This is a list of all of the sacred religious holidays of Yalortism. Each one is a, uh, sacred event which we celebrate because, uh, it's so sacred. Yes."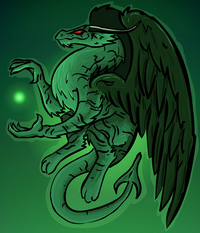 Baked Fish Day - 5th of January
YALORT's Birthday - 24th of October
YALORT's Unofficial Birthday - 1st of May
YALORT's Other Unofficial Birthday - 22nd of February
Pseudolonewolf Day - 25th of February
Kilted Monk Week - 4th to 11th of March
Towel Day - 25th of May
Robertthias's Birthday - 12th of June
Roget's Birthday - 14th of June
The Earth's Birthday - 22nd of July
Universal Dictionary Day - 25th of July
Revised Edition Day - 25th of August
Selected Poems Eve - 9th of September
Selected Poems Day - 10th of September
Talk Like A Pirate Day - 19th of September
Wrath of Antarctica Day - 12th of December
Pigglemas - 5th of December
Festival of the Kilted Monks Called Roget Jr Reading Selected Poems About Baked Fish From Antarctica - -8nd Septembuary
See also
External Links
Community content is available under
CC-BY-SA
unless otherwise noted.