This article is too short to fully cover its subject.
Larval is a type of Beast in Beast Signer.
Larval-type beasts
All Stage 1 beasts are part LARVAL, but NO OTHER STAGES can have this type!!
Larval-type techniques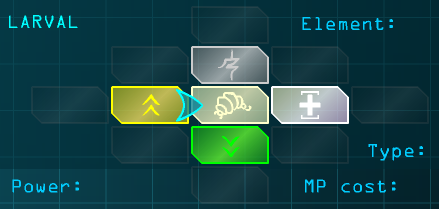 All enemy beasts are able to use whichever skill they learn.
Type: Magical

MP: 5
#Silver Bubble

Inflicts magical, non-elemental damage.

Learned By
Bolar, Bris, Bulboid, Buoybie, Cumulus, Dogrop, Druttle, Greml, Grubb, Guppea, Inkus, Nagrop, Roglop, Sekil, Sputnik, Woot, Zeode
Properties
Power: 100%
Accuracy: 100%
Community content is available under
CC-BY-SA
unless otherwise noted.